THE RIGHT OIL, AT THE RIGHT PRICE, AT THE RIGHT TIME
Find out how we can help you...
About Us
---
Deojay Petroleum is an independent producer and distributor of a wide range of automotive and industrial lubricants. We pride ourselves on offering premium grade products which use the latest in additive technology and innovations to create lubricants which provide our customers with advanced lubrication solutions. These are blended in-house under a plant which has been certified for ISO 9001:2015 Quality Management Systems. We are also glad to offer various grease products, as well as speciality product lines such as degreasers, and truck wash amongst many others.
Where necessary, we can create custom solutions to fit our client's needs, backed by the strong technical knowledge we are proud to claim as a key element to our company's strengths. Between our Managing Director and Technical Director, we have more than 100 years of combined industry experience, ensuring the correct product finds its way into the hands of our valued customers. If needed, we are also able to source and supply international brands which meet the specific OEM demands some organisations may have where their equipment or vehicles are concerned.
The focus at Deojay has always been to use cutting edge technology and research so that our products are at the peak of current design and formulations. We have been in the South African market for more than 27 years and use this experience to ensure that we stay ahead of the market. No matter what a customer needs, we have the necessary experience and technical service to ensure the product they use gives them the high-end performance we are known for.
Organisation Profile
---
Deojay Petroleum, was established in 1994 as a family owned business, currently blending and distributing lubricants and industrial oils.

The organisation is committed to the development of environmentally friendly formulations and the creation of innovative products by focussing on international research and advances in base oils, as well as additive technology, and infrastructural advances to continually enhance the product range.

We believe in developing not just our products, but additionally our staff to be equipped with the correct resources and training to produce a premium quality product and provide the highest levels of service for our customers.

Our well trained and motivated work force fully understands the value of customer satisfaction and the need for on time delivery of its products and services, and they are led by a team of directors which incorporates more than 100 years of combined technical experience in the oil industry.

An essential requirement of the continuing maintenance and development of the organisation's objectives is the installation of a quality management system registered certified under the ISO 9001:2015 Standard. We strongly believe this stands as a testament to our commitment to providing our customers a service and product of the utmost quality.

When we speak to assured quality of our products, we do not just rely on our own word and confidence. From strict quality assurance controls in place the moment anything arrives on-site, to a fully automated blend plant which negates human error, to an in-house testing facility which analyses all products during production before release is authorized for sale, and further quality assurance processes in between, we have held ourselves to the highest standard. We make sure that every step of the way we uphold our commitment to the highest quality products, technical knowledge, and customer service.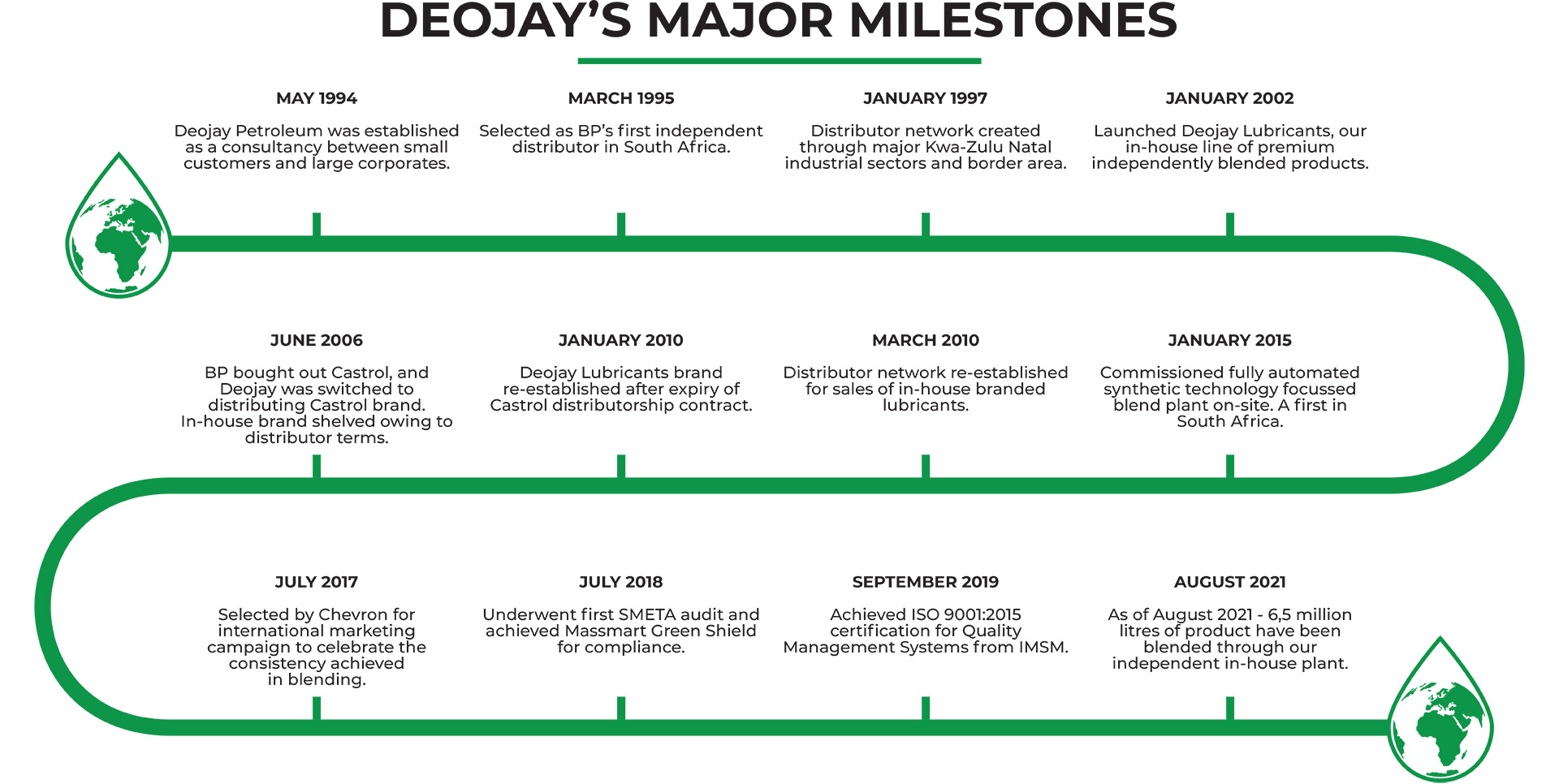 Our Vision
---
It is our firm vision that our organisation becomes recognised as a market leader in the local and international oil industry, as we strive continuously to guarantee a high quality product and delivery times, while never compromising on service levels or product offerings.

Mission Statement
---
We will achieve our vision by:
Constantly staying ahead of or up to date with local industry requirements by remaining focussed on international trends
Concentrating on the formulation and manufacture of products which remain at the forefront of technological advances within the industry and innovation
Ensuring our raw materials are of the highest quality to give customers piece of mind of the quality product we guarantee to produce
Placing key quality staff in strategic positions to achieve the vision of the Deojay brand and ensuring their happiness and commitment by providing an environment pleasing to all staff employed by our organisation
Our Values
---
Consideration
Consistency
Dedication
Integrity
Passion
Respect
Innovation